Israel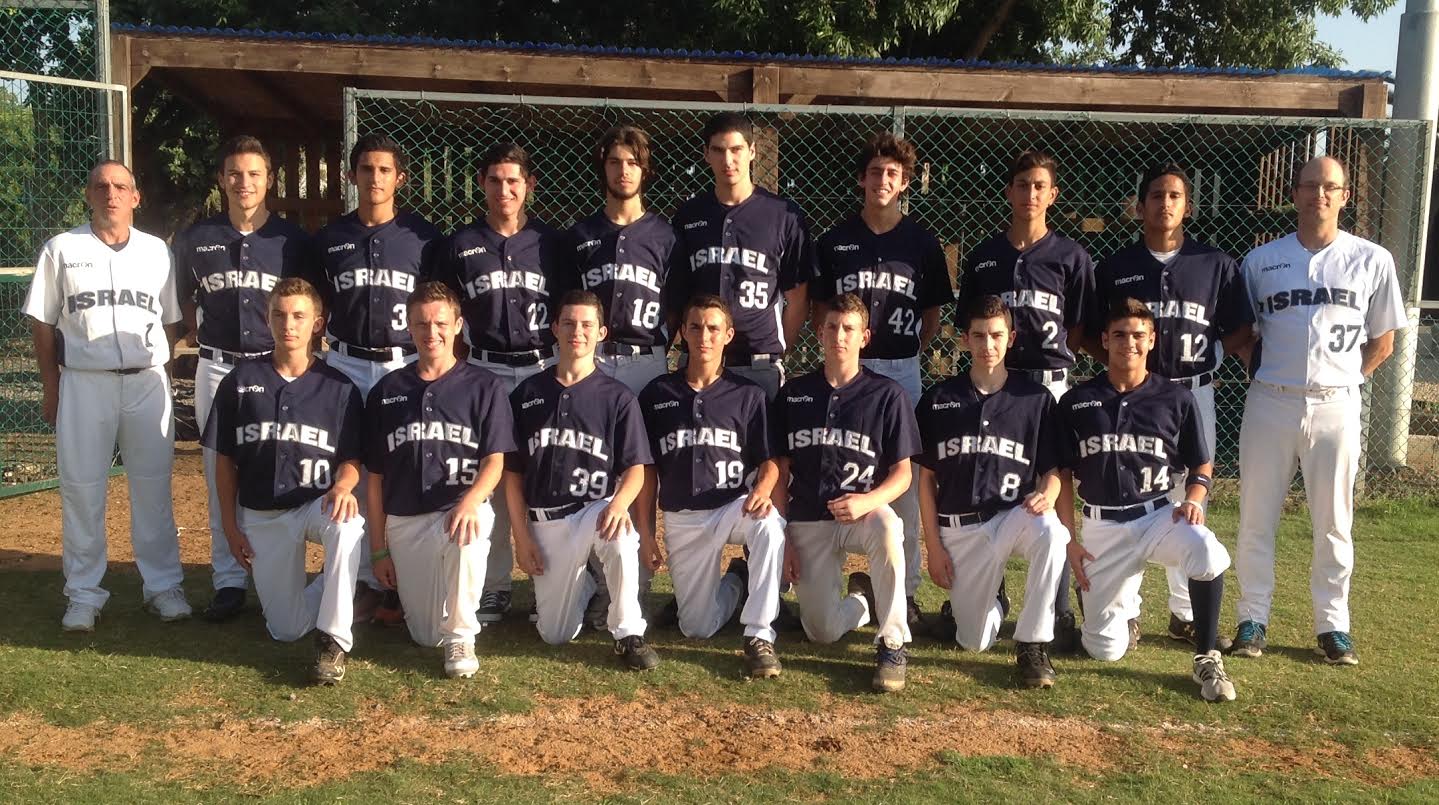 In talking to Assistant Coach Brian Klaff, Israel's Junior National Program is really taking flight. 2014-15 saw twice as many players tryout than they did in 2013. All players on the current roster have now played a minimum of 2 years in the Men's League, 2nd Division.
For the 2nd consecutive European Junior Championship, team Israel will be the youngest of all participating Nations with an average age of 15.8 years. Through hard work and dedication, these "young guns," are looking to make a name for themselves by earning the right to participate on Medal Day Saturday!
With their new-found respect for the game, they play it how it is meant to be played!
Roster:

No.  Name            Age  Post
#2   Raz Shukar      14   OF
#4   Ben Rosenberg   17   DH-OF-1B
#8   Yoni Aron       17   Utility
#10  Bar Shrem       15   C-SS
#11  Mikey Rosenfeld 18   3B-SS-P
#12  Adi Leon        15   P-INF-OF
#14  Yuval Barak     16   P-3B
#15  Yomi Klaff      15   OF-Utility
#18  Amit Baran      16   1B-3B-OF
#19  Gal Shrem       15   2B-OF
#22  Elan Zashin     15   P-SS-3B
#24  Itay Harrouche  15   P-OF-C
#31  Kfir Leon       15   C-OF-1B
#35  Ishai Picus     18   OF
#39  Benji Abramson  16   2B-DH
#42 Omer Adan-Yodla  17   Utility

Staff:

Corey Vyner      Head coach
Brian Klaff      assistant coach
Yosef Saar       assistant coach
Dganit Leon      coach
Cathy Gruibber   scorer

ECHJM History:

Championship                      Standing  Teams
2013 - VIII. Stenløse (DEN)         4.        5
2011 - VII. Kostelec n.O. (CZE)     5.        5
2009 - VI. Ledenice (CZE)           3.        4
2006 - V. Havlíčkův Brod (CZE)      4.        6
2004 - IV. Le Thillay/Roissy (FRA)  4.        7
2002 - III. Choceň/Kostelec (CZE)   3.        5
2000 - II. Enschede (NED)           3.        5
1998 - I. Praha (CZE)               4.        4

Next games
Previous games
| Date | | | Result |
| --- | --- | --- | --- |
| 13.07.2015 | Croatia | Israel | 1 : 0 |
| 14.07.2015 | Poland | Israel | 11 : 13 |
| 14.07.2015 | Czech republic | Israel | 7 : 0 |
| 15.07.2015 | Israel | Great Britain | 12 : 5 |
| 16.07.2015 | Israel | Denmark | 3 : 2 |
| 17.07.2015 | Croatia | Israel | 7 : 6 |